You may have seen my last post where I confessed how London's fashion was totally shocking! A proper English woman might say, "Ghastly!" I would say, "Totally AMAZING!"
Well, the next leg of my trip gave me an even BIGGER shock. I traveled with my hubby to the North of England (right next to Scotland!), where the countryside was decorated with beautiful pastures and family estates. And WOW. Was I in for a treat!!!
New friends came in all shapes and sizes (LOL)!!
My husband and I were attending a friend's wedding. The nuptial ceremony would be celebrated with an Form Latin High Mass (Gregorian chants are so so so beautiful). I wanted to be sure my dress was both modest and appropriate in length. So I wore a navy, midi pencil dress with lace sleeves and a ruffled yoke. Sleek, subtle, & feminine.
Have you been to the North of England? It wasn't until I arrive that I realized how COLD IT IS! I'm from LA… so this was a shock. :) I had to pop on my collarless, faux leather jacket, and since it matched nearly EVERYthing, I thought I looked great!
I strolled up to the Church, thinking I looked super on point…
Obviously, I didn't get the memo… while everyone was dressed to meet the Queen of England, I was ready for a Red Hot Chili Peppers concert. BOOM. I ripped off my black leather jacket as quickly as I could before anyone got a good look at me, LOL!
EVERY woman attendee was wearing an elegant & bright floral dress, along with a unique hat/fascinator. This LA girl did NOT fit in.
Regardless of my vain self-consciousness, all of the other women looked "absolutely lovely!" Their style was feminine, modest, and happy!!
Next time… I will definitely leave the leather jacket and sleek navy dress at home!!
I didn't see others taking pics or live streaming on Instagram at the wedding, so I tried to be as inconspicuous as possible, which is why they're not the best, lol! (Again… we were NOT in LA!) So bare with me as I try to show you the best of my photog skills : )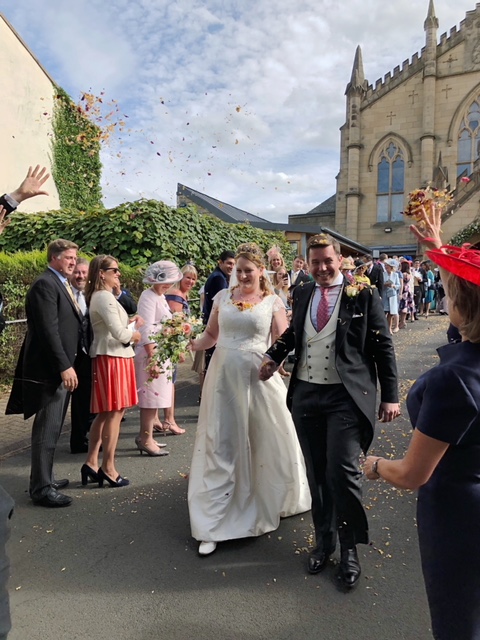 Inspired by the lovely ladies at this wedding, I thought I'd share a few dresses for you to shop this English country wedding style. Enjoy wearing these beautiful dresses! : )
Question: What is YOUR favorite special occasion dress?